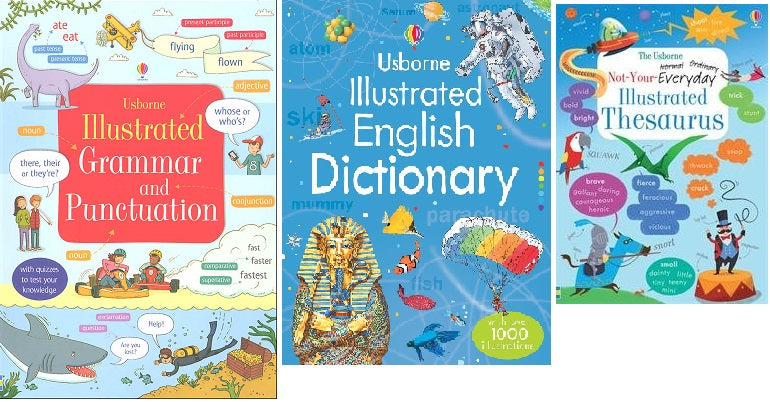 Usborne
Usborne Illustrated Reference Set (3 book set)
$ 41.97
1. Illustrated Grammar and Punctuation
An easy-to-use guide to grammar and punctuation with sections on nouns, pronouns, verbs, apostrophes, quotation marks and more. Clear explanations, fun illustrations and lively example sentences will help children develop their writing style and skills and there are short quizzes to test their knowledge. A useful reference book for home and school.
2. Not-Your-Everyday Illustrated Thesaurus
A fantastic resource to help children boost their word power, both when writing and talking. Words and their synonyms are grouped in over 90 topics, including for example, animal words, noisy words, fairytale words, jobs, sports, monsters, weather and lots more. Children can choose a topic relevant for their story, or look for a word in the Word Finder index. Colorful pictures illustrate many of the word meanings, and there are writing tips, word games and internet links to other carefully chosen writing resources online.
3. Illustrated Dictionary
A comprehensive dictionary with over a thousand color illustrations, over 10,000 entries and 25,000 straightforward definitions. Fully revised and updated for 2014 and beyond, with new words added and redundant words removed. Includes example sentences and pronunciation guides for tricky words, as well as information about the conventions of written English and a brief history of the English language. An essential home or school reference book that is perfect for children beginning their SATs and similar exams.
Age: 8+
6 7/8*9 3/4
---
Share this Product
---
More from this collection